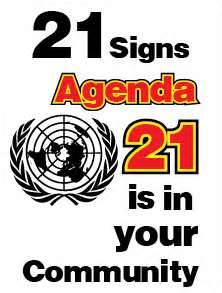 ..
Better check and get involved….
Identifying Agenda 21
Your city will most likely have a combination of these or all of these.
New Redevelopment City Plans – That promote the 3 E's : Environment, Economy and Social Equity – also look for sustainability ideals/adoptions, private/public partnerships, mentions of stakeholders
Smart Meters are present in your city
Bike Paths/Routes that are mandated by your city to receive specific funds or planned throughout your city with out funding. Typically these bike routes will take current motor vehicle paths.
Your city is a member of ICLEI – or ICMA
Your community has a Sustainability Department or Sustainability Director
Community supports compact, high density, mixed use, pedestrian and bicycle oriented development patterns, constructed along public transportation and rail corridors.
Your community is actively promoting healthy communities through sustainable agriculture and community gardens – a shift away from free market food system to a public sustainable food system
Your city is a member of NCTCOG or other regional councils that promote and launch new sustainable initiatives
Your city has determined suburbs are considered Sprawl and blight and is discouraged to continue through various incentives and regulations
Your city is building or built new Green buildings – typically LEED certified or LEED certified materials and builders
Your city has shut down or discouraged coal, fossil fuels or typical sources of energy and are promoting alternatives like solar and wind farms
Private Land owning is under great strain due to new restrictions, codes, regulations, land use rules, – in order to 'promote' preservation, environmental protection and conserve natural resources.
Your city is a member and working with N Gos to gain more control over privately owned land to secure (take) land for common 'green space'
You see more of the 3 E's on city planning, information, city documents: Environment, Economy and Social Equity – when these overlap they call it 'sustainable'.
Your city belongs to: the Earth Charter, Sierra Club's Cool Cities Initiative, Audobon Society's Sustainable Community Initiative or your mayor has signed up for the US Conference of Mayor's Climate Protection Agreement
Your city accepts Global Warming or Global Climate Change ideas
Acceptance of LEED – building and energy standards and certifications for all construction and development
You hear your city being called: transition town, resilient city, livable community and have educational classes that start teaching this concept of globalism, interdependence with nature
Social Equity words are used more often like: food justice, economic and environmental justice, direct democracy, diversity, wealth redistribution, one world,
Your city is involved with many N Gos and working with them for planning and development
Your local schools promote IBO or IB classes (International Baccalaureate)
Your local schools promote awareness on environmental, sustainable development and focus on becoming environmentally literate – promotion of good global citizens. Less and less on promotion of national good citizenship and individual independence.
Your city promotes Private-Public partnerships
Your city promotes a philosophical non-specific ideas such as well being and happiness and less on understanding of GDP, prosperity, progress any traditional wealth and growth measures.
Your city resources: water, coal, gas, timber, metals, mines, etc are becoming more restricted and more costly or shut down completely– all due to 'environment' 'economic' or social equity reasons.
Good source used to help create this list was:http://www.icleiusa.org/.
http://sustainablecapitalregion.org/.
http://www.andrewcuomo.com/greenny.
http://www.nyserda.ny.gov/Statewide-Initiatives/Cleaner-Greener-Communities.aspx.
http://www.un.org/en/development/progareas/dsd.shtml.      please check them out.